By Journal Staff Writer
Aasiyah Taalib-Deen graduated from Bowling Green State University, BGSU, on Friday, May 4, with a degree in criminal justice. She plans on continuing her education, at BGSU, in the fall for a Master's Degree in forensic investigation.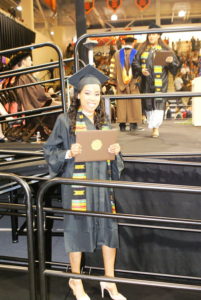 Ms. Taalib-Deen told The Toledo Journal she became interested in criminal justice while in high school at Central Catholic.
"While I was searching through careers, I decided I liked criminal justice. I want to go into a field in which I can help people, and I want to leave this earth knowing I impacted someone's life," she said.
Ms. Taalib-Deen also said that her time in Toledo Police Explorers, which serves as a program that teaches young people ages 14-21, who are interested in law enforcement, basic police skills, helped solidify her decision about pursuing a career in law enforcement.
At age 21, Ms. Taalib-Deen had her first child. She said some people tried to recommend that she take a break from school, so she could be at home with her child.
"My advice to anyone in college, don't give up no matter the obstacles. Don't even take a break from school; just keep going until you finish," she said.
Ms. Taalib-Deen isn't quite sure what direction her career will take her, but she expressed interest in being either a detective in a police department, working with the FBI, or working with a human trafficking agency.