By Leah Williams
The 25th Annual 50+ Sports Classic sponsored by the Area Office on Aging and YMCA of Greater Toledo took place on Saturday, September 14 across multiple venues in Toledo and Maumee. The opening ceremony was held at the Wolf Creek YMCA.
Athletes and their families gathered bright and early at the flag pole in front of the YMCA to celebrate the upcoming day's events. Mr. Cole spoke of the power of healthy living and community as he emceed the program that included brief speeches, a youth hip hop dance, and the lighting of the torch by Area Office of Aging Director/CEO, Billie Johnson and Wolf Creek YMCA District Vice President Melanie Grohowski.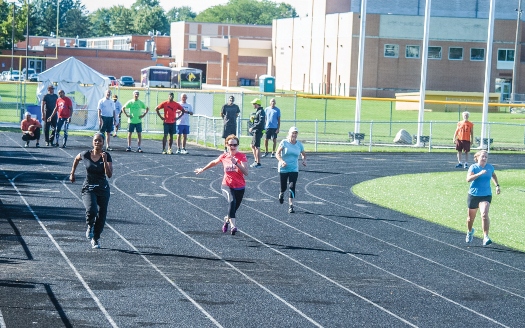 According to event organizer Justin Moor, Vice President of Planning and Program Development at the Area Office on Aging, the Sports Classic was the vision of Director Billie Johnson and an incredible testament to aging well.
"This is a really inspirational day where we see positive images of aging – shattering a lot of myths people have about what it means to be age 50 and better," Mr. Moor said. "In the past, we've had 50-year-olds dunking, 90-year-olds running the 100-meter dash, and everything in between, so it's a really great day."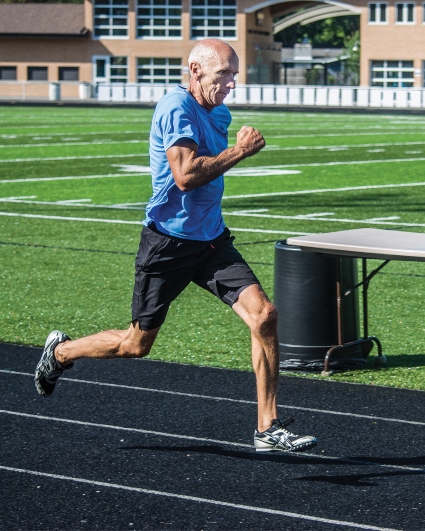 Over 200 athletes, ages 50 plus, participated in the classic on Saturday. The participants competed in over 10 sports including bowling, tennis, golf, track and field, swimming, pickle ball, and basketball. Each sports competition was divided into age groups and awards were given to the winners within each age grouping.
When asked about the importance of the event to the athletes and community at large, Ms. Johnson said that, the event was so important in motivating retirees to engage in activities that improve their overall health.
"We are delighted to promote health and wellness and this is what this is all about – to get our 50 plus population out here to be a role model for other retirees in our community so that, we can be healthy, live long, and be as independent as possible," Ms. Johnson said.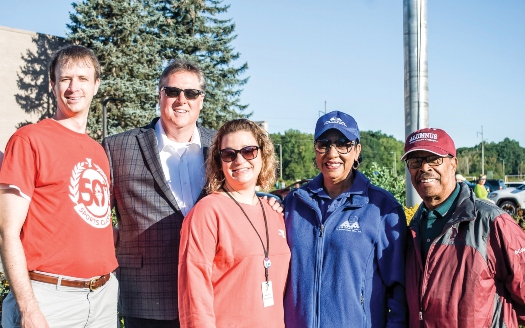 While the organizers had their reasons for sponsoring the event, the participating athletes each had their own reasons for competing as well. Terri Wolf, age 60, received a flyer in the mail about the event and said she saw it as a great opportunity to challenge herself at the precipice of a new decade in her life.
"I had a hard time turning 60 so I decided I'm going to go do this. This looks really fun, and I love being active. And so that's what got me into it, and I'm doing it again in Albuquerque, New Mexico as well."
Stephanie Marable, 52, said her youngest daughter was the catalyst for her participation. "My daughter forced me. She bullied me," laughed Ms. Marable who won her heat in the 100-meter dash.
Pickle Ball partners get ready to receive serve during their tournament

Men run the 100-meter dash during the track and field competition

Renard Oliver Sr. who competed in honor of friend Charlie Ollie poses at the Maumee H.S. track after competing in his events.
"My daughter runs at University of Cincinnati, and I always used to push her so she said 'Oh, you're going to do this mom' so I did," Ms. Marable said.
Renard Oliver Sr. woke up nursing a hamstring injury but pushed himself to compete to honor his childhood friend whom he reconnected with at last year's 50+ Senior Classic.
"I came today in honor of my friend, who passed away 6 months ago, Charlie Ollie who the last time we were here had a great day. He earned 6 or 7 medals, and I hadn't seen him in about 15 years so I had to be here today for him," Mr. Oliver said.
The competition started at 8:00 a.m. and continued well into the afternoon. Interested athletes 50 years and older are encouraged to begin training for next year's competition now, which participant Stephanie Marable said is a great way to stay fit, have fun, and meet others in the same age range who are doing the same.