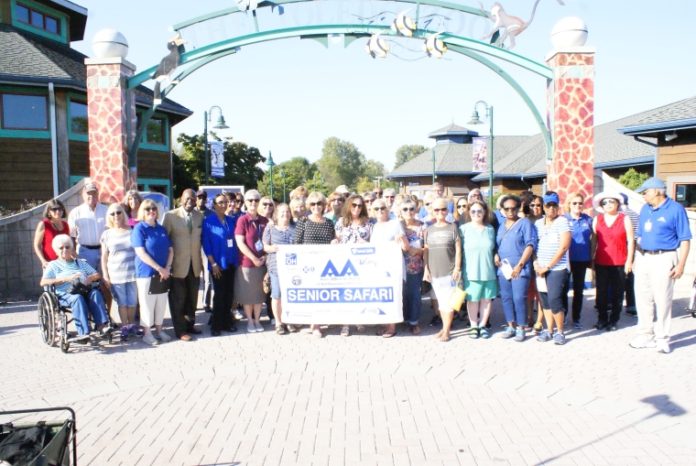 By Jurry Taalib-Deen
Journal Staff Writer
For 25 years, the Area Office on Aging, AOA, along with their community partners, have been hosting the Senior Safari at the Toledo Zoo. Encouraging a healthy lifestyle, while re-visiting the zoo, all in an entertaining environment is the purpose of the event. But for 2018, participants received much more when the entertainment on Tuesday, September 18, was Motown's The Vandellas.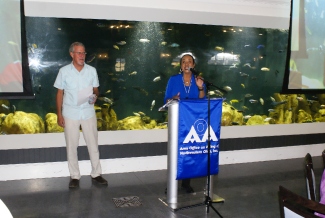 Before being entertained by the legends of Motown, Billie Johnson, President/CEO of AOA, told The Toledo Journal that attendees were first, encouraged to participate in a one mile walk around the zoo. September is "Falls Prevention Month," she said, and the walk is to bring awareness to falls, and ways to prevent them. Also, the walk encouraged exercising, as one of the ways to help build muscle, and bone, both of which, could help decrease the chances of falling.
"We're hoping those who participate in the walk, each take at least 10,000 steps today," Mrs. Johnson said. "One of our partners, Silver Sneakers, donated 100 pedometers, so seniors can keep track of their steps," she said.
Sarah Vandevender, a pharmacist, said, various things can contribute to falls, such as dizziness. Some medications, as well as having low sodium, and potassium, could increase the chances of falling. Low magnesium, she said, could lead to muscle cramps, which could also increase the chances of falling.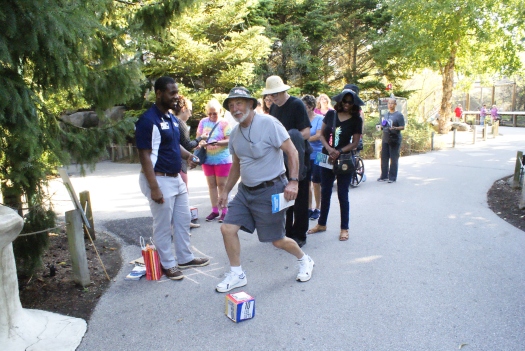 "Always, speak to your pharmacist, or primary care physician, first, about taking preventive measures," she said.
Following the one mile walk, Silver Sneakers, had four stations set up along the route to the Malawi Event Center, where vendors, lunch, and the performance by The Vandellas would take place. At each station, seniors would roll large dice that had six different exercises on each side. Jumping jacks, lunges, and leg lifts, were among some of the exercises that participants were encourage to do. Every senior that participated in an exercise, at each station, would receive a free gift.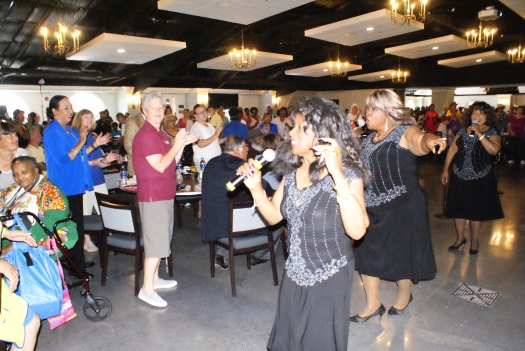 Once inside the Malawi Center, numerous vendors focusing on healthy lifestyle, or services offered to seniors, passed out information about what they offered, gave health screenings, or distributed free fruit.
After a healthy lunch, attendees were treated to 30 minute performance by The Vandellas, in which many seniors could be seen dancing to the group's songs.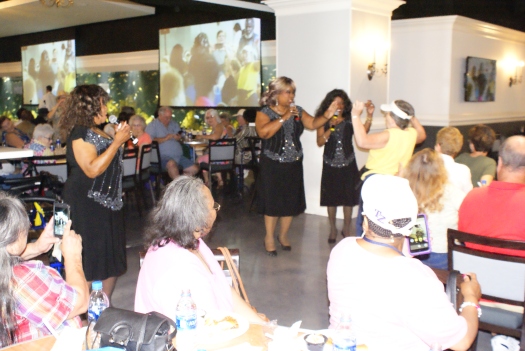 At the entrance into the zoo, seniors prepare for their one mile walk. The goal of the day was each walker tries to reach 10,000 steps.