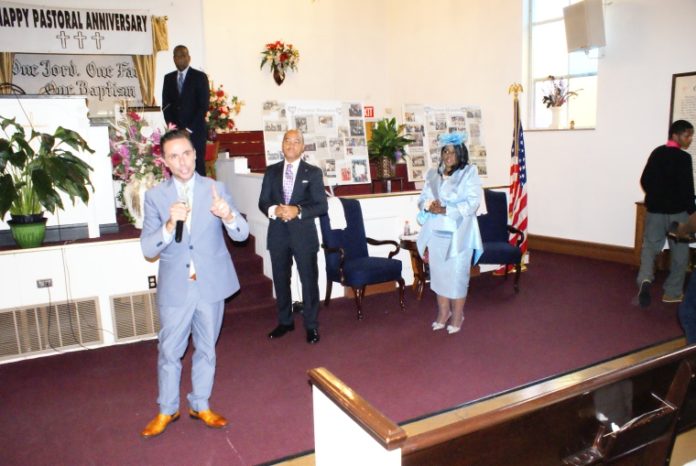 By Jurry Taalib-Deen
Journal Staff Writer
"Blessed beyond Measure," and "Standing on the Promises of God," were the themes of Mt. Nebo Missionary Baptist, 831 N. Detroit, 25th Pastoral Anniversary of Dr. Cedric and First Lady Debra Brock. Held on Sunday, June 10, political, religious, and community leaders were in attendance for the event.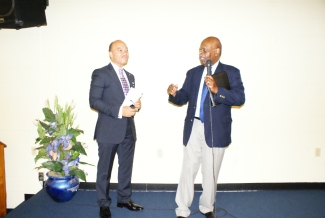 Praise dancing and special musical selections were a part of the service, while Bishop Michael Pitts, senior pastor at Cornerstone Church, delivered the sermon.
Afterwards, presentations from the congregation of Mt. Nebo, as well as, from guests were made to Dr. and First Lady Brock. A common theme from everyone that offered congratulatory words was their work outside of the church.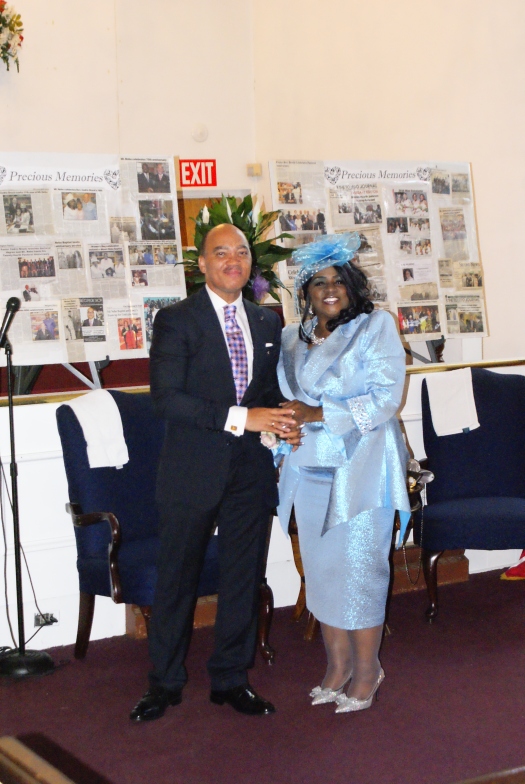 "Over the years, Dr. Brock has been a mentor to me. I learn something new every time I talk to him," Gary Johnson, Toledo City Council Member told those in attendance.
"Dr. Brock, and his wife are two people with high integrity," said Bill Harris, retired media personality, and current Chairmen of the Board of the Area Office on Aging.
"Dr. Brock has been faithful to the community, to the schools, and to the political world," Dr. Cecilia Adams, Toledo City Council Member said. She told everyone the Toledo City Council will be doing a Resolution for Dr. and First Lady Brock for their 25 years of service to the community.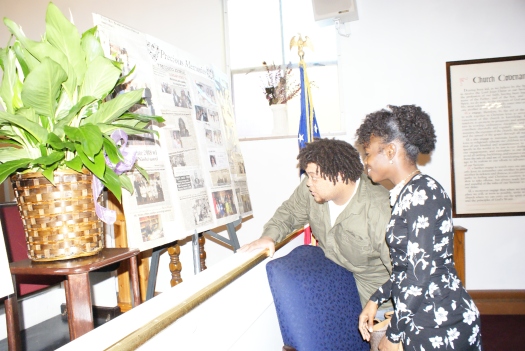 Precious Barber and Todd Brock are members of the church. They told The Toledo Journal how the leadership of Dr. Brock has impacted their lives.
"Dr. Brock leads by example," Ms. Barber said. "He not only preaches the Word, he lives it," she said.
"I'm the man I am today because of Dr. Brock's leadership," Todd Brock said. "What I really respect about him is his involvement within the community; he's more involved than most people think," he said.
"I feel so appreciated today," Dr. Brock said. "It's refreshing to see people recognize the works you do outside of the church walls," he said.
Dr. Brock said, "Jesus said let men see your good works. Therefore, we go out into the community on what Jesus said. The church is inside of us, and we have to go out into the community with Christ's message."
Dr. Brock thanked his church, the visiting churches, and their leadership, the political leaders, and the community for the celebration, as well as helping him spread the message of Christ within the community.
He invited everyone to listen to Mt. Nebo deliver the Word every Sunday at 7:30 a.m. on 95.7.