By Jurry Taalib-Deen
Journal Staff Writer
The last time a Toledo high school, basketball team, received a state championship ring was in 1990 when Scott High School boys won the state.
But the last time a girls' team won it all was in 1979 when the Lady Cowboys of Libbey High School brought back the title.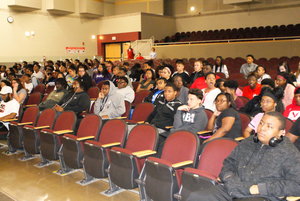 The Lady Rams of Rogers High School ended that drought when they captured the Division II State Championship by beating Gates Mills Gilmour Academy 51-37.
For their victory and hard work the past year, the team, as well as the coaches, received their state championship rings, in the auditorium of their school on Thursday, May 17.
Lamar Smith, head coach, told some of the student body who came to the presentation, as well as other school officials, including Dr. Romulus Durant, superintendent of Toledo Public Schools, "This is a special day. This proves that the hard work you put in will be rewarded."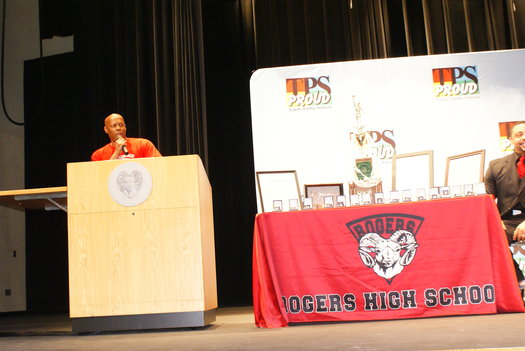 Six seniors will be graduating in 2018, but the Rams will have three returning starters for the 2018/2019 season.
"We're not taking anything for granted," Coach Smith told The Toledo Journal. "We're going to enjoy this moment because the girls earned it. But we've already started preparing for next year," he said.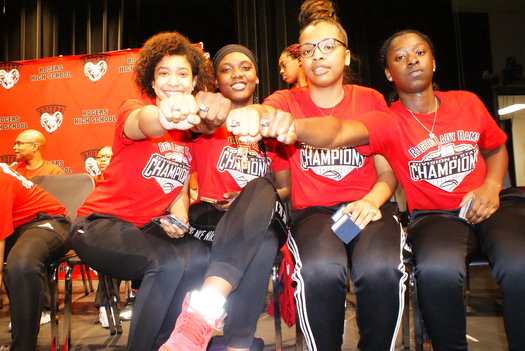 Regarding how often he plans on wearing his championship ring, Coach Smith said, "I'm going to let it rest, but I am going to wear it for a while."
"I'm really proud of the team because people were saying Rogers couldn't make it back to the championship. Well, Rogers proved them wrong," Dr. Durant told the audience.
"This championship is not only a reminder of what can be done on the court, but in the classroom, as well," he added. "Go Red," the chant that represents Rogers High School, "Is all about achievement," Dr. Durant said.
Graduating senior, Tasya Gant said, "This is really a good way to end my senior year. Today is a special occasion."
Tasya said she would wear the ring only on special occasions. Then, she looked at the ring on her hand and said, "Well, I might wear it every day."
Madison Royal Davis, a freshmen guard said, "This feels really nice on my hand, and I will wear it every day." While staring at the ring on her hand, she added, "I want three more."