By Jurry Taalib-Deen
Journal Staff Writer
Lo Salem Missionary Baptist Church congregation hosted the 25th Pastoral Anniversary for their Pastor, Lewis Savage, on Saturday, June 10, 2018, held at Bethlehem Fellowship Center, 1430 Bancroft. The celebration featured a variety of performances, as well as the presence of local religious leaders.
There was a dinner, praise dancing, a gospel comedy show, and the siblings of Pastor Savage sang to him.
In attendance for the celebration was Minister Chris Bryd, and Bishops MC McGee, and Randal Parker.
Arnisha Bush, president of the Pastor's Aid Committee, told The Toledo Journal why the recognition and celebration was important.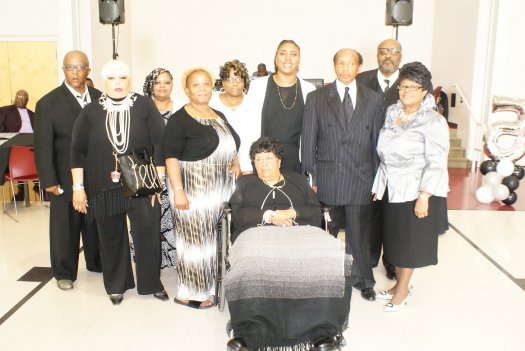 "We have a God fearing man who stepped up to the challenge of leading the church when his father, and our late Pastor, Harvey Savage Sr. passed," she said.  "I've been a member all my life, and I follow a man, who loves God, and is always available to the members of the church," Ms. Bush said.
Judy Savage, member of the Pastor's Aid Committee, and sister to Pastor Savage said, "He has done so much for the church, me, and my children; that's just a few reasons why he deserve this celebration."
First Lady Norma Savage has also diligently served God in the leadership for 25 years, as well as the members of Lo Salem. Although being the wife of Pastor Savage, she has worked in number of capacities around the church, including Sunday school teacher, fundraiser, and janitor.
"I feel great, and honored by the celebration today," Pastor Savage said. "One of the greatest things that I or anyone can do is spread the Gospel of Christ throughout the world; there's no work greater."
Future plans at Lo Salem Missionary Baptist Church include expanding the church facility, opening a center for senior citizens, and youth, and expanding the Martin Luther King Jr. Kitchen for the Poor, Pastor Savage said.