By Eddie B. Allen Jr.
Special to the Toledo Journal
When Toledo native John S. Scott looked out into the audience of the first New York play he'd written only six people stared back.
In some ways he was Tyler Perry decades before Tyler Perry came along, starting from an unlikely background and fueled by a love of storytelling – and a desire to create more provocative black characters than Madea.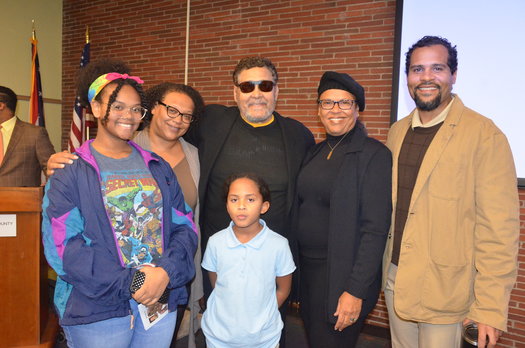 Today Scott, 81, is the newest inductee of the Toledo-Lucas County Public Library's Toledoana Collection. The former Bowling Green State University theater professor attended a Nov. 19 ceremony where several of his published works were accepted into the special division of Local History and Genealogy.
Scott, whose plays have attracted countless audience members since that first sparse crowd in New York, joked, "So I guess I'm coming up in the world."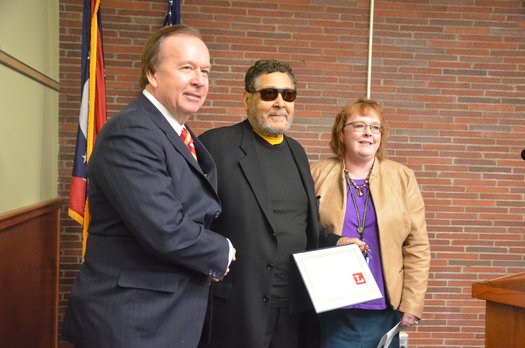 Library officials including Director Clyde Scoles congratulated Scott before a crowd of about 50 family members, friends and colleagues at the Kent Branch for Scott's success with scripts like Ride a Dark Horse. Scoles called it a special occasion "to honor a Northwest Ohio playwright," given the library's frequent recognition of nationally and internationally known authors.
Rhonda Sewell, external and governmental affairs manager for the library, recalled getting to know Scott when he gave her an adjunct position at Bowling Green State University where he chaired the ethnic studies program in the 1980's.
"He is the most creative, intellectual person that I know," Sewell told the audience.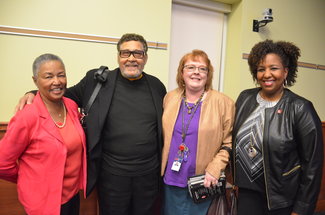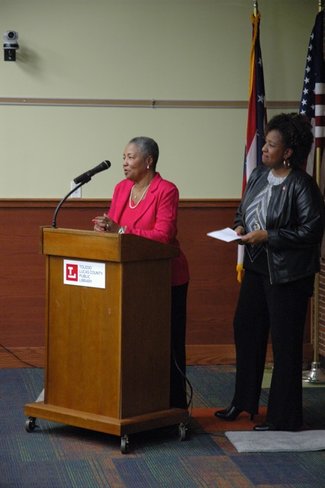 District 4 Councilwoman Yvonne Harper was joined by District 1 Councilman Tyrone Riley and Council Member-at-large Larry Sykes in presenting Scott with a City of Toledo resolution.
Scott received additional praises and accolades from Books 4 Buddies co-founder Laneta Goings, program mentor Christopher L. Smith and Dorian Myers, a Books 4 Buddies youth ambassador. As part of Books 4 Buddies programming, Scott conducted the "Hook It Up" eight-week writing workshop for about 16 young men at the Birmingham Terrace homes this year.
Smith and Myers honored Scott with a presentation that included a Books 4 Buddies t-shirt.
Scott's writings for the stage have featured performers who went on to become some of today's most popular black actresses in television and film. Among Scott's works included in the Toledoana Collection are: Afternoons at the A.O. Café, My Little Black Book: A Memoir, Shorty: Six One-Act Plays, and Lizard Therapy.
Along with his literary achievements, Scott carved out a successful career as a director and educator, teaching theater and fine arts at Bowling Green, Jackson State University, Florida Memorial College and other higher learning institutions.
He cited the famed novelist James Baldwin and an elementary school teacher who introduced him to classic literature as among his career influences. Being honored by friends and peers in his hometown is more humbling than other formal recognition, the past recipient of the Ohio Governor's Award for the Arts told the audience.
"I guess I want to say that the poetry of the community is the best poem out there," Scott said, "the very best."