By Leah Williams
Rosa Parcher and Jack Lassman were all smiles as they joined family, friends, and supporters on June 22 at Sanger Branch Library for a book signing event to celebrate the release of their self-published children's book Our Solar System: Pluto's Jealousy.
The children's book, which started as a solar system assignment in their 6th grade class at Maumee Valley Country Day School, was written and illustrated by both students. Rosa and Jack said that they were given a choice of options for a final project and chose to work together on a children's book because they had similar ideas.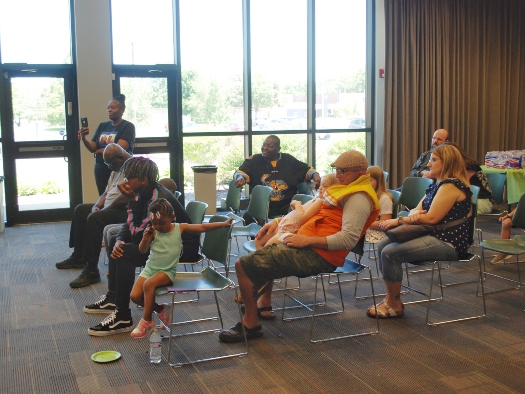 "We both had an idea to have Pluto cause the moon phases," Jack Lassman said. "So we then kind of mixed our ideas together to come up with the book."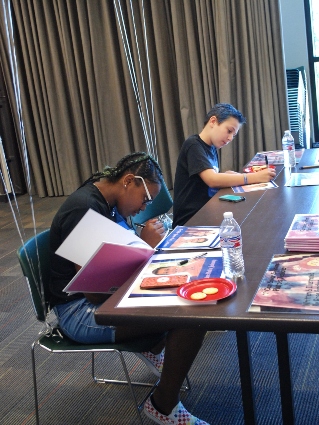 After presenting their children's book in class, Rosa and Jack thought that was the end of their joint project until Rosa's mother Glenita Parcher surprised them by publishing their book.
"They didn't know," Mrs. Parcher said. "They were going to just throw the project aside since it was done, but I looked at it and thought 'this is a book'."
Mrs. Parcher who is a student at the University of Toledo then enlisted the help of Clay Chiarelott, Writing Center Coordinator at the university, to self-publish the project.
Authors Rosa Parcher, left, and Jack Lassman, right, pose at their book signing table.

From left to right: Rosa Parcher, Head of Lower School Jamie Lassman (father of Jack), and Jack Lassman.
"I helped with getting it to the published level. From a project to an actual printed book," Mr. Chiarelott said. "Through a mutual friend, I heard Charnita was working on this project, and they thought maybe I could help. And so I did my best."
Even though Rosa and Jack said they never expected to have a published book out of the class assignment, they were both glad that it happened and excited to have experienced the self-publishing process from start to finish.
Plans for a second book are already underway as well as a free workshop to help others who want to self-publish.
When asked about their book's appeal, Jack Lassman said, "It's a visually fun book and a great way to sneakily teach your kids." Co-author Rosa Parcher said, "I think [kids] are learning as they're reading, and they will stay interested in our characters."
Books will be available on Amazon the week of July 8. To purchase a book before then, contact Glenita Parcher at (419) 283-5752.
[adrotate banner="7"]